Inn Catering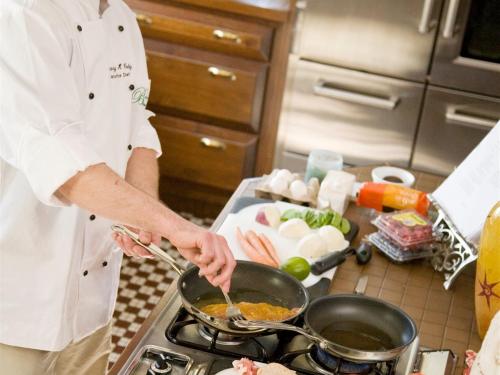 Are you a serious "Foodie?" Looking for something different? Gather your group and learn while enjoying food and fun with Chef Greg Cody, owner and Executive Chef of Brimont Bistro and Catering. Culinary instruction and private dinners. To arrange, please contact us to make your reservations.
Culinary team building activities and group culinary classes will bring your staff and clients together in a new way. These sessions promise to encourage communication and interaction.
Fun for Foodies
Kitchen Competitions
Dividing your group into teams they will face off in timed cooking challenges, relying on teamwork and creativity to get the job done. Teams will be judged on taste and presentation. The end result should be an excellent meal to enjoy - and new found skills to take with you.
Culinary Workshops
After the basics of his "culinary boot camp" members of your team will work with Chef Cody and his staff of culinary coaches to focus on the skills needed to prepare and enjoy a fine meal together. 6-8 people per workshop.
Event planning made easy!
Let us work with you to make your dinner party memorable and easy. Delicious menus to choose from - especially for you and your guests in mind.
"Stay and Play" at the Inn, tailoring your event to Birthday Parties, Bridal Showers, Cooking and Book Club and Girlfriend Getaways.
For information call Susan at: 585-473-9752